T. rex was vegetarian - I kid you not!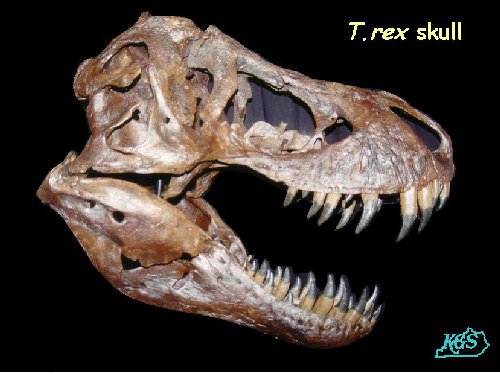 Ken Ham from Answers in Genesis is opening a creation museum in Kentucky, USA. In it will displayed typical creationist propaganda regarding the wrongness of evolution and the rightness of the bible. In an
interview with BBC News
, Ken is claiming that
Tyrannosaurus rex
- the rather iconic bad-ass carnivore - was in fact vegetarian. Before you wet yourself laughing/pick your jaw up from the floor/recover from fainting/etc, let's hear Ken out. He does give an argument for why this could actually be the case. From the article:
Most geologists would say humans and dinosaurs were separated by more than 60 million years. And those dinosaurs have very sharp teeth!

"So do bears", says Ken, "but they eat nuts and berries! Remember, before the sin of Adam, the world was perfect. All creatures were vegetarian." One of the dinosaurs lets out a rather contradictory roar.
Wow. Ken does have a point. Bears do have fangs and they do eat "vegies". Could Ken be on to something? Of course not!!! Are you kidding? Even a 12 second search on the web should give you enough information to dispell any such notions. For example, Wikipedia has this to say:
Bear teeth are not specialized for killing their prey like those of cats. Normal canine teeth in a carnivore are generally large, pointed and used for killing prey, while bears' canine teeth are relatively small and typically used in defense or as tools.

Bears' molar teeth are broad, flat and are used to shred and grind plant food into small digestible pieces.



(emphasis added)
Look at the teeth of a T. rex (as per above) and you will see a complete lack of broad, flat molar teeth that can be used to shred and grind plant food. What you do see - exclusively - is the large, pointed type used for killing prey (or at least tearing meat).
Now you may continue laughing...